Similar to previous versions of Windows 8 and Windows 8.1, on this Windows 10 operating system, Microsoft also allows users to reset Windows to the state it was in when it was installed.
This is extremely useful in many cases, but for those who are less knowledgeable about computer rescue, this is considered a very great feature to help the computer work smoothly again.
What is the effect of resetting the computer?
After resetting your computer, all software or applications you install will be lost. In general, only the operating system and the apps that are available are left. You imagine what it was when Windows 10 was installed class="">, then after reset, it was exactly like that.
The reason you have to reset the computer?
There are many reasons why you are forced to reset the computer to return to a new state such as:
Infected computer virus causes data in your computer to fail.
The computer works slowly.
Your computer has too much junk software because you don't know how to take care of and clean it up.
Computers are infected with adware and have many ads turned on when opening browsers, or being redirected to sex sites, advertising pages …
Computer error….
Advantages of resetting the computer
This feature is especially useful for those who have little experience setting up computers, are afraid to touch rescue tools such as 

rescue USB

 or rescue disk.

Easy to do, even if you do not have any computer knowledge, it can be done easily.
Less error occurs in the recovery process.
How to 

reset Windows 10
OK, after you know all the advantages of this feature, let's start doing it.
+ Step 1: Click Start => select Settings.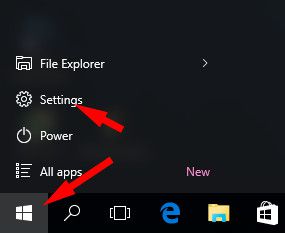 Choose Update & security.
Next, choose Recovery => and select Get startedat  Reset this PC
+ Step 2: There will be 2 options for you:
Keep my files: Delete apps and software installed on the computer but will keep the files in the user directory, by default that folder is in the pathC\Users\tên người dùng

Remove everything

(choose this if you want to reset Windows to the newly installed state):

 This option means that you agree to delete all applications, software, clean the Windows installation partition or completely. Hard drive set like new.
Note: If you choose Keep my file => press Next => Press Reset => select  Only the drive where Windows is installed(only delete data on the Windows partition you are using, ie drive C).
You can choose anyone, depending on your needs. Here I will choose Remove everythingto clean Windows and bring the Windows operating system to a state like new.
Wait a minute …
Update one more image: If a window appears as shown below, choose it  Only the drive where Windows is installed. Absolutely do not choose is All Driveroffline, otherwise all data on the hard drive will be lost.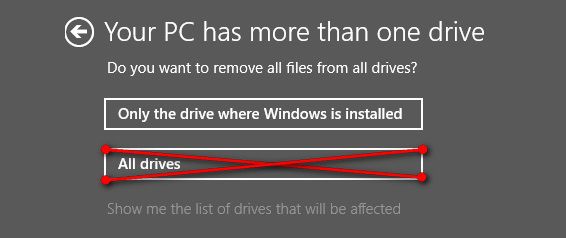 + Step 3: The new window interface appears and there are also 2 options for you:
Just remove my file (recommended): This option helps you to quickly delete, which means that you can still use data recovery software to restore it after the deletion is complete. Just like that option Quick Format USB 😀
Remove files and clean the drive: Wipe your data and it's very difficult to recover data, the downside of this option is that it takes a long time to delete. This method is only useful in the case that after resetting the device you will sell or give to someone else, but if you still use it, do not need to choose this option for wasting time.
I will choose Just remove my files.
+ Step 4: A message in the next window with the content as shown below, click the button Resetto perform the process of restoring the computer to a new state.
The reset process is in progress, please wait.
It also takes 15-20 to finish it, you can enlist to work well, to help reduce your impatience 😛
+ Step 5: Select the time zone again and click Nextto continue, you can set it as shown below.
Click Acceptto agree.
+ Step 6: Here you can click Customize settingsfor custom installation or click Use Express settingsto install under Microsoft's default setting.
Next, please select I own itand press Nextto continue.
+ Step 7: Here if you have a Microsoft account, you can always enter, or if you do not have one or you want to sign in later, click Skip this stepto continue.
+ Step 8: Here you set your username and set a password to log into Windows. If you do not want to set a login password, in the password box, leave it blank and click Next.
OK, done. Your Windows 10 is completely like it was when it was new.
+ Step 8: The job of resetting the computer here has been completed, but to get a perfect and complete computer.
Epilogue
The Reset Windows 10 is quite simply not true, generally, we just take a long time to wait is not it manipulation, nothing difficult at all and I think anyone can do after looking at all write this.
Hope this article will be useful to you, wish you success!